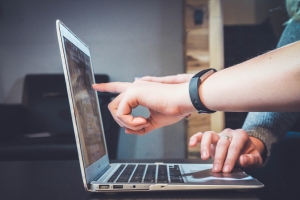 What is back office automation and how has it helped Fastmore move forward into the future?  We know that business processes are being recreated and automated.  To ensure that we can keep up, we need to change the way that we work, and when you think about it, even our workplace.  None of us are strangers to technology, since it is at the forefront of everything we do in business, today.  How technology has helped shape back office automation for Fastmore logistics, has been an interesting process to see over the last few years.
As the Financial Controller, I manage the accounting and compliance departments at Fastmore.  With the addition of Hubtran, in the recent years, we have been able to simplify and streamline the processes for our carrier and customer invoicing; eliminating the tedious tasks for our back office.   Hubtran helps our accounting department to keep everything organized, expediating the paperwork process, while keeping our days sales outstanding (DSO) numbers to a minimum.  Automation makes our day run smoother and allows our teams to dedicate their time effectively, while providing for a better customer and carrier experience.
Technology in the Workplace
In addition to Hubtran, which we utilize for our accounting department, we have introduced automation to our compliance department.   One of the compliance department's responsibilities is carrier screening and on-boarding.  Registry Monitoring Insurance Services (RMIS) is the tool we have adopted to guarantee a faster and streamlined process when it comes to carrier screening, and on-boarding.  RMIS allows us to set up our own algorithm and modifiers, that will monitor our carrier's performance, the quality of the carrier, carrier vetting, and on-boarding for our carriers. RMIS helps provide the peace of mind that will save us time and reduce risk by streamlining the compliance process.
The way we think forward, is to keep up with technology advancements that will impact our industry.  As a team and company wide, we continue to ensure that we have best practice standards.  To an extent, automation is becoming the holy grail of every industry, worldwide.   When we embrace the changes that can make our workplace and work day efficient, effective and productive, we provide the best customer and carrier experience.
Our goal, as a growing third-party logistics company, is to continue to integrate technology to help us automate our processes to become an agile and efficient workplace. We value our employees, and by introducing technology to assist with back office automation, we can set ourselves up to efficiently scale as an organization, while making everyone's lives a little easier.
Chris Dicintio