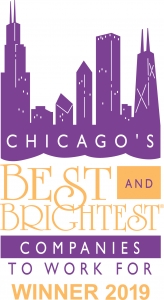 Elk Grove Village, IL (July 25, 2019) Fastmore- a Top 75 U.S. Logistic Brokerage, that specializes in providing comprehensive multi-modal transportation services, ranging from expedited shipments, to less than truckload moves, located in Elk Grove Village and Chicago – was recently named one of Chicago's Best and Brightest Companies to Work For. This is the company's first time earning a spot on the list. The Best and Brightest, administered by the National Association for Business Resources, is an awards competition providing the business community with the opportunity to gain recognition, showcase their best practices and demonstrate why they are an ideal place for employees to work.
One of the main purposes of the program is to raise the benchmark for company practices implemented to improve the work environment for employees. As part of the competition, each nominee completed a questionnaire on their human resource practices, and employees were given a survey to provide thoughts and opinions on working at the company. The 2019 winners were selected by an independent research firm that evaluated each company's entry in the following categories: communication, community initiatives, compensation and benefits, diversity and multiculturalism, employee education and development, employee engagement and commitment, recognition and retention, small business, recruitment and selection, and work-life balance.
"Receiving this honor is great, but we still know that there is a lot of work to be done. Fastmore is committed to enhancing the employee experience and meeting employees where they are in their lives. We will continuing to engage with employees, and find ways to improve our work environment," said Katie Dykstra, Chief People Officer. She continued, "It's amazing to be named among some very elite and innovative companies when it comes to human resources and employee practices."
The 2019 winners will be honored at an awards symposium and gala on September 16, 2019, at the Renaissance Chicago Downtown Hotel. During the event, elite category winners will also be announced.
About the NABR
The National Association for Business Resources (NABR) advocates and represents small and medium-sized businesses throughout the United States. NABR specializes in providing businesses the benefits, programs, services, and assistance required to operate as efficiently and successfully as possible. Best practice solutions are available to members in the areas of human resources, healthcare, legal, transaction, compliance, marketing, and office services. For more information about NABR and its offerings, please visit https://thebestandbrightest.com/ or call 1-866-321-1822.