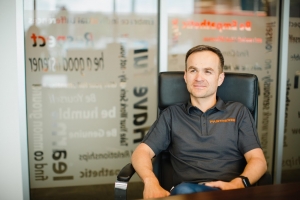 Welcome to Convey More, Fastmore's communication hub.  In 2019, one of my goals is to share more about Fastmore, who we are, what we do and why we are the specialists in simplifying logistics.  We have some exciting new initiatives rolling out this year and I can't wait for our leadership team and I to share them with you.
In the beginning
I migrated from Lithuania to the United States in 1992. My career path took me in the direction of the logistics industry.   The entrepreneur in me always had some interesting and crazy ideas. My wife will be the first to attest to this and while she might not remember the plethora of the ideas I hurled at her daily, she will certainly recall the best one, the one which started in the summer of 2005, the beginning of Fastmore Logistics.
The first years
The first few years, we had a clear vision for our goals and short term/ long term plans, but as you know not everything goes according to our plans.  Fastmore started as an asset based expedited carrier, servicing the freight forwarder community.   By 2008, we had a fleet of different vehicles from cargo vans, to straight trucks, and semi-trucks. What we discovered is our strength was in transportation management and finding creative solutions for our customers to move their freight. As a result, in 2013 I decided to liquidate all our trucks, and in one month we went from being a trucking company to a freight brokerage.  We continued to bring in top talent, to help make Fastmore one of the fastest growing companies in the U.S.
Fast forward to 2019
We recently opened the doors to our Chicago office, which helped expand our business and change the way we do things.  I am pleased with the rapid growth we have made in the last 2 and half years, and we now have over 80 employees who help us to excel every day, by working to achieve our mission to simplify logistics for our customers. One of our goals and what we strive for every day, is to be the best in the industry, not only for our customers, but as a best place to work for our employees.
In 2019, we have some fun things happening at Fastmore.  We continue to work on understanding what our employees want and need to succeed in their roles, and, hold engagement events that will support our culture and team building initiatives.    We have also been super busy focusing on bringing the latest and best technology to help make the transportation of freight more efficient, and, provide our customers and carriers with a better customer experience.  I look forward to all that we have planned for 2019 and beyond.  I am eager to have you join me as we move through what is going to be a very exciting year!
Ray Sciuckas (President)