WE CHANGE HOW YOU WORK WITH
FREIGHT BROKERS
Our Brand Promises are the rules we live by — every action we take and decision we make reflects these commitments. We deliver an outstanding value to our customers and take pride knowing our promises help you achieve success.
We eliminate surprises and uncertainty by getting ahead of the problem. 
We deliver consistent results in a world of constant change and we will not let you fail.
We take on your challenges as our own because your partnership matters.
We meticulously select the right carriers to give you peace of mind.
We protect your business by utilizing high-impact technology to keep a vigilant watch.
We believe that promises without action are meaningless words. That's why we developed a set of operational policies that guide our actions with a sense of urgency. This commitment to our customers is what sets us apart from our competition. Our team is committed to:
When we say we will change the way you work with Freight Brokers, we mean it.
We believe that in order to be successful, you focus on what you do best. We know where we excel and have spent over 15 years refining our concentration to our functional area of expertise. Our choice to remain specialized has eliminated surprises for our customers and has allowed us to provide unmatched service. Concentrating on these cornerstones of our business has empowered us to deliver consistent results.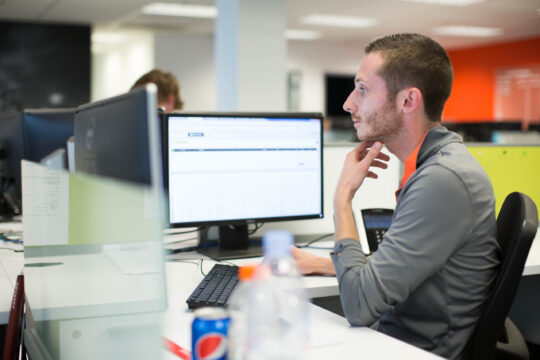 "Being from a company that prides itself on being in the people and communication business- I wouldn't want to lose sight of the great support and communication provided by your team. We have seen the automated communication add value and your drivers have been where they are needed every step of the way"
"Fastmore has always been great carrier partner for us...regardless of the current market conditions, we haven't seen any deterioration in the service provided, everything has been running smoothly and hope to continue to do so."
"Our team extends the highest level of gratitude for extending your kind act of hospitality. This goes beyond partnering to protecting. Additionally, thanks for the great service."
"I appreciate your continuous support as always. I have nothing but positive things to say about Fastmore. I look forward to doing more business together."
"Our team cannot express enough how thankful we are for the relationship we have established with Fastmore. We appreciate all your efforts in continuing to provide exceptional customer service"
"Great communication from the Fastmore team and service that's on time. The online tracking tool and e-mail alerts are very helpful, and the team is always willing to work around our needs."
Change The Way You Work With Freight Brokers